Snowshow is a universal and timeless theatrical poetic spectacle which has unanimously enchanted and empowered the imagination of audiences and critics since 1993 in dozens of countries, hundreds of cities with multiple thousand performances resulting in millions of ecstatic spectators from all nationalities, genders, beliefs, types and ages, probably like no other show. It is a genre of it's own and remains as spontaneous and magical as on the first day it was performed, systematically catapulting adults back in childhood.
It was a dream. A dream that on Thursday the 13th it snowed in the auditorium of the theatre. Snow covered the entire floor, all the chairs, and all those who sat in them. A marvellous dream it was. Well-disposed oligarchs and icy pop stars in tuxes smiled in beguilement, even dropping themselves into the gathering snowdrifts. Suddenly a wind began to blow, hard as only hurricanes know, and music to deafen one's ears to sepulchral silence. Fear gripped us in anticipation of what was to come.
But the lights came up – and out shuffled a clown with small, meditative Kabuki-theatre steps… I dreamt that there is no such thing as postmodernism, but only the primacy of feeling, an ancient purity of emotion. The touch of fine fingers on a spot-lit balloon in the dark…
It wounds the heart. But bitter, too, is sweet life. And sweet it was for me – and not for me alone – in that packed-out theatre-hall, as an enormous spiderweb descended upon us just before the intermission. For in that glassy fibre's thread everyone gasped for joy – joy that we had been entangled, that finally someone needed us, an then even thicker snow began to fall.
Children aged 10 to 65 contrived to make snowballs, showering one another with snow in glee. Yet for this spontaneous happiness their could be no reproach: it was innocent. And the tears had not yet dried, the salty drops not yet trickled to our lips that stretched in smiles from ear to ear, before again we began to cry, and again, and once more, anew…
…One day I realised that I wanted to create a show that would take us back to our childhood dreams; A show which would help spectators be released from the jail of adulthood and rediscover their forgotten childhood.
Having chosen the path of theatre, I sought a way to endow it with a new spirit.
I wanted to dive inside tragicomedy, to measure the extent to which one can fuse drama with laughter.
I wanted to reunite in my character character both the epic and lyrical, tenderness and passion, wisdom and naïveness.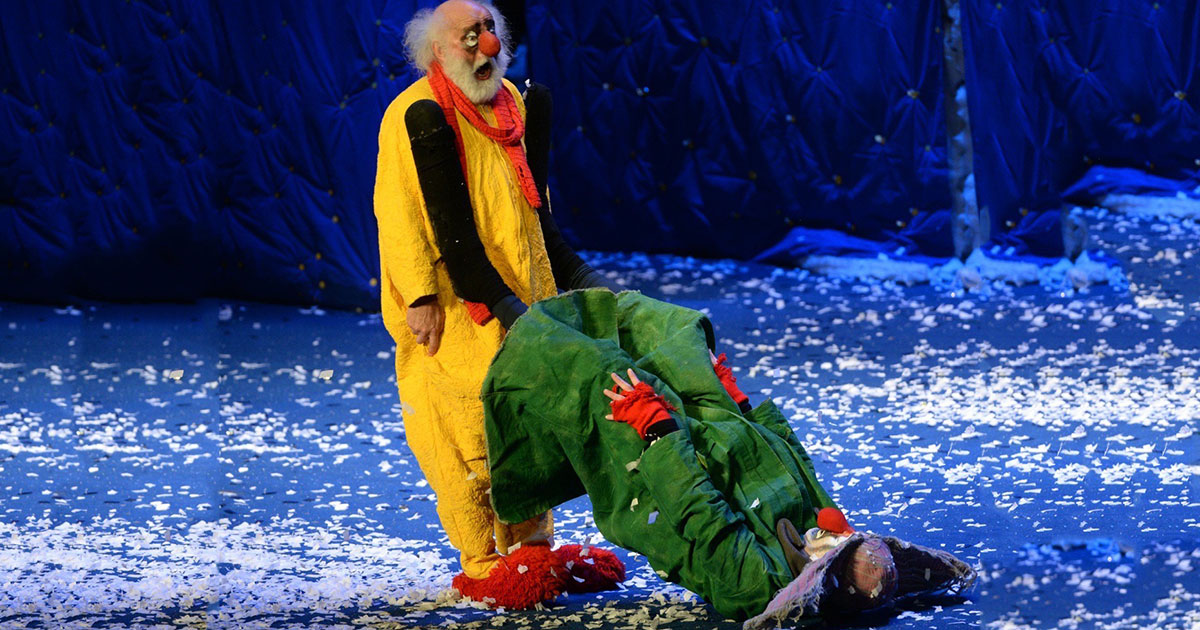 I beganto slow down my rhythm, to value insignificant gestures that now seemed to me far more expressive and colourful than pompous or solemn ones. I grew fond of unfinished gestures, interrupted, frozen, as if cut short by a sudden thought.
Then, one day, this show came to life. This show is a beloved child, I hope not to part from, for it never ceases to surprise and puzzle me over and over again by the innumerable mysteries it conceals. It can spread joy and sorrow, to entertain and move you to tears.
In many ways this show has allowed me to know myself; it is a major
landmark in my life
– Slava Polunin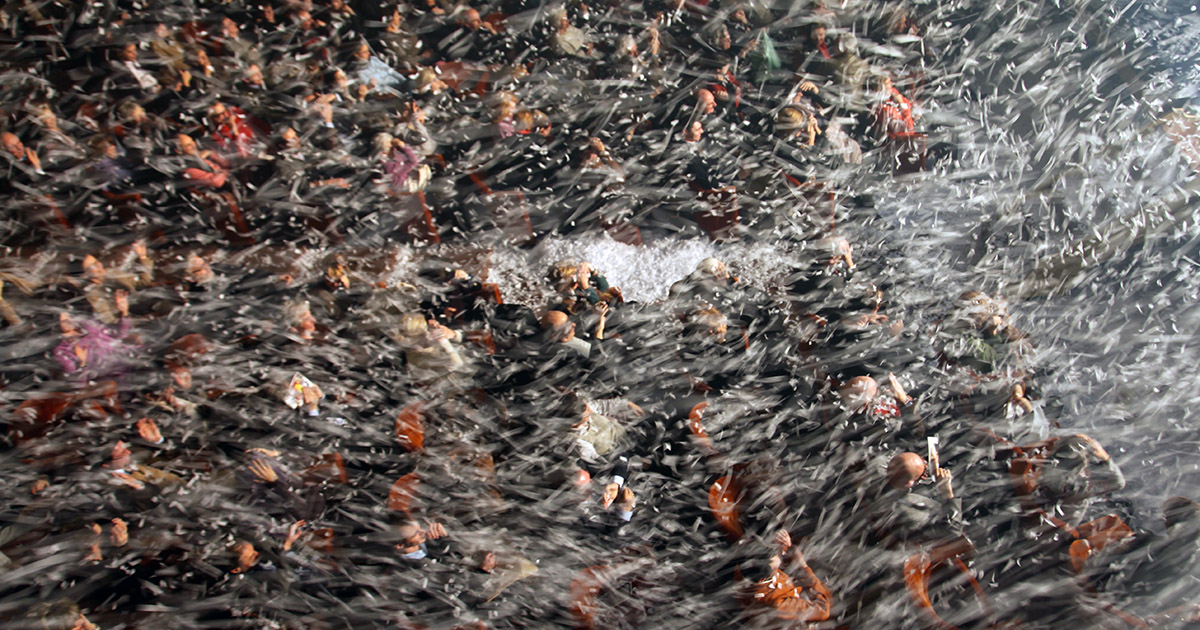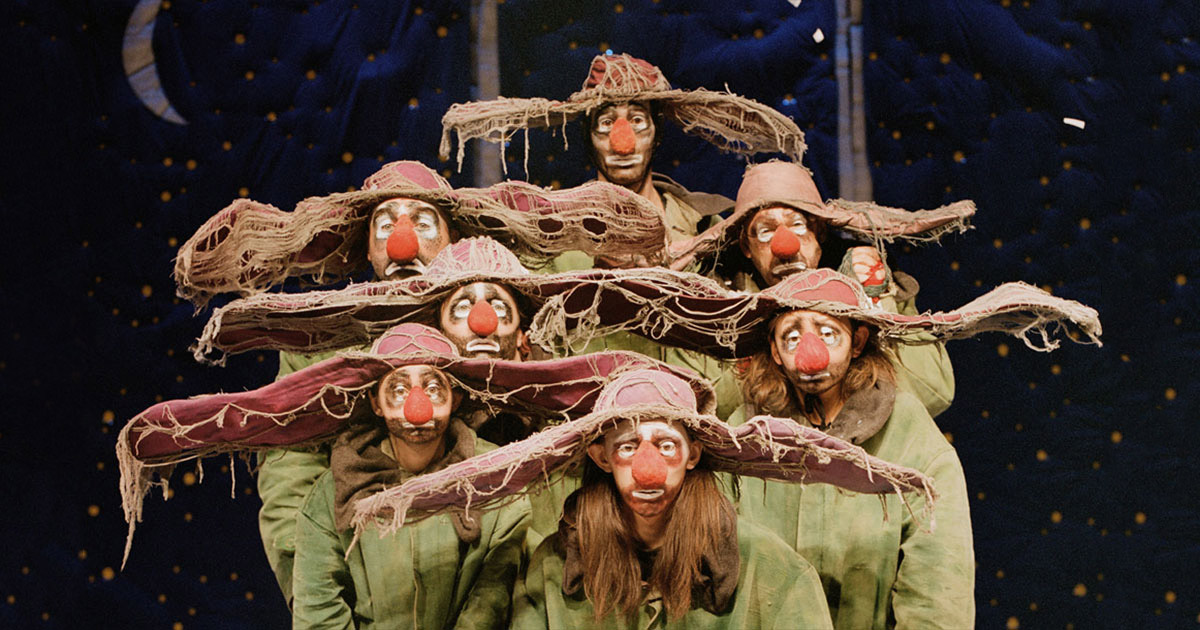 CREATED AND STAGED BY:
Slava Polunin
DIRECTOR:
Viktor Kramer & Slava Polunin
SCENOGRAPHY :
Viktor Plotnikov, Slava Polunin
COSTUMES DESIGN AND SPECIAL EFFECTS :
Slava Polunin
SOUND
Roman Dubinnikov, Slava Polunin